posted on 04 Jun 2015 12:13 by mari4franklin
Overview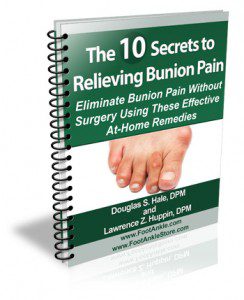 A bunion or hallux abducto valgus occurs when your big toe points toward your second toe. The big toe will touch the second or causes the second toe to overlap the big toe. This causes a boney bump to appear on the outside edge of your big toe. Bunions are more common in women and can sometimes run in families. Hallux abducto valgus can develop as a result of an inherited structural defect or stress on your foot or due to a medical condition such as arthritis. If there is an underlying structural defect in your foot this can lead to compensations causing stresses and pressures to be applied unevenly on the joints and tendons in your feet. This imbalance in pressure and stress makes your big toe joint unstable. Over time this causes the medial side of the 1st metatarsal head to develop excess bone that protrudes out beyond the normal shape of your foot. The size of the bunion can get larger over time which causes further crowding your other toes and causing pain. Pain from a bunion can be severe enough to keep you from walking comfortably in normal shoes. The condition may become painful as the bump gets worse, and extra bone and a fluid-filled sac (bursa) grow at the base of the big toe. By pushing your big toe inward, a bunion can squeeze your other toes into abnormal positions. This crowding can cause the four smaller toes to become bent or a claw-like in shape. These bent toes are known as hammertoes. Smaller bunions called ?bunionettes? can also develop on the joint of your 5th toe.
Causes
Bunions are most often caused by faulty mechanics of the foot. The deformity runs in families, but it is the foot type that is hereditary, not the bunion.Certain foot types make a person prone to developing a bunion. Injury can be a cause, especially if just one foot is involved. Although wearing shoes that crowd the toes won?t actually cause bunions in the first place, it can make the deformity progressively worse. That means you may expererince symptoms sooner.
Symptoms
The skin over your big toe may be red and tender. Wearing any type of shoe may be painful. This joint flexes with every step you take. Your big toe may angle toward your second toe, or even move all the way under it. The skin on the bottom of your foot may become thicker and painful. Pressure from your big toe may force your second toe out of alignment, sometimes overlapping your third toe. If this condition gets severe, it may be difficult to walk. Your pain may become chronic and you may develop arthritis.
Diagnosis
When an x-ray of a bunion is taken, there is usually angulation between the first metatarsal bone and the bones of the big toe. There may also be angulation between the first and second metatarsal bones. These angular irregularities are the essence of most bunions. In general, surgery for bunions aims to correct such angular deformities.
Non Surgical Treatment
Initial treatment of bunions may include wearing comfortable, well-fitting footwear (particularly shoes that conform to the shape of the foot and do not cause pressure areas) or the use of splints and orthotics (special shoe inserts shaped to your feet) to reposition the big toe. For bunions caused by arthritis, medications may help reduce pain and swelling. If nonsurgical treatment fails, your doctor may suggest surgery, which resolves the problem in nearly all persons. The goal of surgery is to relieve pain and correct as much deformity as possible. The surgery is not cosmetic and is not meant to improve the appearance of the foot. Other related procedures that may be used to help diagnose foot disorders include X-rays of the bone and foot.
Surgical Treatment
The decision on bunion operative treatment is usually made on the basis of the level of pain and inconvenience caused by the bunion or second toe. There is no correct answer to the question, bunion pain and inconvenience are both highly subjective. An inability to get into a formal shoe may be a major problem for a business woman or man but no problem at all for someone wearing trainers every day. However in general if a bunion is free of pain then the recommendation would not be for surgery. That said, this is not an absolute. Once a patient has read this section and appreciated what surgery and the recovery entails the patient will be in a better position to discuss the possibility of bunion surgery for their symptoms.